LTCC LAB offers a whole new products design, prototype and manufacturing of LTCC, Low Temperature Co-fired Ceramics. Contact LTCC LAB with your design.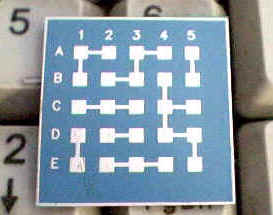 LTCC 90784 module LTCC 90587 Substrate

LTCC LAB can Replace your PCB (FR4) material with high Tech LTCC substrates. Contact us for more information.
LTCC- Low Temperature Co-fired Materials Properties
LTCC Dielectric Constant @1 MHz 7.8
DF (Dissipation Factor) @ 10 MHz 0.15%
I R (Insulation Resistance) @ 100 V DC > 1012 Meg ohms
Ceramic Breakdown Voltage V/25µm > 1000V
LTCC Shrinkage X, Y shrinkage (12.2%) and Z (15%)
Thermal expansion of LTCC (25°C-300°C) 5.8ppm/°C
Typical LTCC Via Diameter is 101µm (4 mils) Via cap 9 mils
Line Width 6 mils, Line space 6 mils
Cofired Inner Layer Conductor 100% Silver (Ag).
Cofired Top Layer Conductor Pd/Ag, Solderable termination, or Gold.
go to: LTCC Design Rules
For information on LTCC Electrical and Mechanical properties go to LTCC Technical Information